Wearables are being incorporated into our daily routines more and more. From fitness trackers to augmented reality glasses, we wear these devices on our wrists, neck, face, etc. These technologies were created to seamlessly assist us in our activities, functioning as personal assistants, fitness coaches, or sources of entertainment. But these devices are only noted for their truly unique features when they get the basics right.
Safety & Comfort
Upholding user safety and maintaining thermal comfort for wearable devices is of the utmost importance for success and acceptance in the market. Your customers won't notice when you get these things right, but they will notice if you get them wrong. That is why it is so important to understand how the device will impact your customer's comfort and safety.
Understand Design Changes
Design changes made to your wearable technology can be simulated to see the thermal effects they produce for comfort and sensation. This type of simulation will allow you to get important results about the usability of your device before it goes to a prototyping stage.

You can use a thermal simulation code to determine how your customers will feel while wearing the device. To see these effects, you can simulate the user and their environment to look at their comfort level without the device, with baseline parameters, and with any number of device variations. Critical device parameters that impact user comfort are 1) the device temperature where it comes in contact with the skin and 2) the conductance between the skin and the device.
Accurate Predictions
An advanced thermo-physiological model is necessary if you hope to derive accurate results of comfort from your simulation. Only a model that takes the parameters of the human body into account will be able to deliver true measurements. These measurements can then be used to choose a design variation to move forward.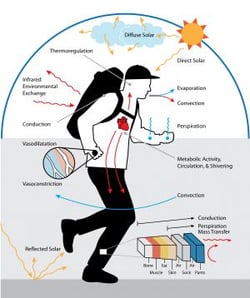 [If you are looking to test many design variations, a program like CoTherm can help you automate your process]
Create the Best Product Possible
Understanding baseline comfort and being able to compare that data to variations of your device will help you make the right design decision and to create better products. Developing methodologies will allow you to simulate comfort under various activity levels, differing physiologies as well as changing environments.
Wearable devices are changing our world. Be sure you are creating the best products possible by ensuring thermal comfort and safety.